Certificat for excellence in teaching in the winter term 2018/19 and the summer term 2019
Philipp Schuster and Fabian Eska were awarded for their excellence teaching performance in the winter term 2018/19 and the summer term 2019 by the KIT Department of Economics and Management. The lecture "Blockchains & Cryptofinance" was evaluated from the students as one of ten best lectures within all of the department. Fabian Eska and his pratical class supporting the lecture "Derivatives" was assessed as one of the five best practical classes by the students.
Teaching Award 2017
Prof. Uhrig-Homburg won the Teaching Award 2017 for her lecture Credit Risk (Kreditrisiken).
Teaching Awards 2016
Marcel Müller (Investments) and Stefan Fiesel (Derivatives) won the Teaching Award 2016.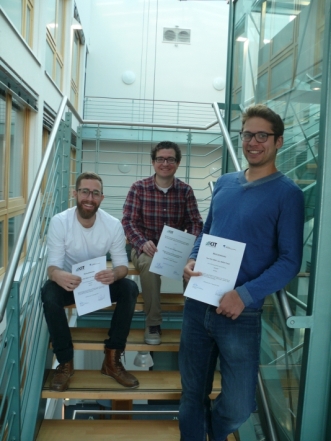 KIT Honorary Professor
Dr. Ulrich Walter was awarded the title 'honorary professor' from the Department of Economics and Management of the KIT on February 4, 2016. Dr. Walter, head of trading at the DZ BANK AG, has been holding lectures at the Chair of Financial Engineering and Derivatives for many years and received outstanding evaluations from his students. His inaugural lecture as Honorary Professor had the title "Implications of the Financial Crisis on Risk Management and Valuation of Financial Instruments".